How to Buy a Quality Car at a Used Car Dealership
Posted Thursday, Apr 20, 2023
Buying a used car is good for several different reasons. First of all, a used car cost less. Secondly, the insurance costs are low, and these cars have lived out most of their depreciable life. Also, the interest rates on these cars are low, which helps you save considerably. However, buying a quality car at a used car dealership is challenging.
You need to approach a reputable dealership that doesn't indulge in fraudulent activities. You also need to sort out the financing options that help you buy a good used car without ripping you off.
Here is how to buy a quality car at a used car dealership.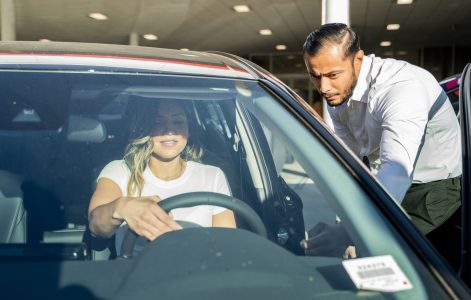 Know How Much to Spend
There are two ways to purchase a good used car. You can either pay cash or you can take out a loan. Paying with cash is simple, and the budgeting process is straightforward. Make sure you don't pay all the money right away. You should put aside some money for insurance, registration, and any possible repairs in the future.
Most people take out a loan to protect their savings or to buy an even pricier model. It is better to get yourself preapproved for a car loan. A pre-approval makes your buying process easier, and it also puts you in a stronger position at the car dealership. You can use an auto loan calculator to determine your payment plan. What you need to do is as follows.
Pay 10% of the whole amount in a down payment. As a result, you will have to finance a lesser amount.
The car should be financed for not more than three years. A longer loan will result in lesser monthly payments, but it makes you pay a lot more than the loan amount.
Budget in such a way that the monthly payment, the fuel, and the insurance are not more than 20% of your take-home salary.
Choose the Features You Will Need
With so many options available, finding the right car is challenging. To make your life easier, spare a minute and think about how you plan to use your new car.
Suppose you have a big family. Therefore, you will need a car that's spacious and also has ample cargo space. If you prioritize safety above all else, check with the Insurance Institute for Highway Safety. They will provide you with crash test reports, if any. Luckily, some advanced safety features available only for luxury cars are now available in your everyday vehicles.
Narrow down the field by listing all the features you will need. Then, use sites like Edmunds and other car finder tools to search for the car of your choice. As you move forward with your search, limit your option pools to no more than three cars, and then conduct thorough research for those three models in particular.
Check for Ownership Costs and Reliability
Every car has something different to offer. Some of them have more miles on them and more wear and tear. However, you must make sure you're choosing the models based on dependability. JD Power and Consumer Reports Collect Maintenance Reports from owners and rate each and every used car.
The total cost of ownership is another factor to take into account. Although some cars are initially more affordable, these costs might build up and leave you with a big bill that you might not be able to pay. Some of these costs include insurance, registration, repairs, depreciation, and fuel.
You can use resources like Cost of Vehicle Ownership by Consumers Reports or Five-Year Cost to Own by Kelley Blue Book.
Find a Good Used Car
Online Marketplaces
Used Car Search Pro, Auto radar, and Auto list are some of the best online marketplaces for used cars. These marketplaces have comprehensive listings from retailers, dealerships, and individuals nationwide.
Online Retailers
Vroom, Carvana, and CarMax are some of the best names when it comes to online auto retailers. They allow you to complete the purchasing process online without having to drive to a dealership.
Traditional Private Platforms
Facebook Marketplace and Craigslist are two of the best online platforms for individual sellers, especially if you are looking to buy a used car from a private party. You can actually find a good deal on these platforms, but there are too many scammers out there, too, so it's your job to be vigilant.
Price the Vehicle
Here are a few things to do when pricing a car, you are interested in.
Check the model year of the car, also known as the trim level. For example, the 2020 Sentra by Nissan has various trim levels.
If the car has more or less mileage on it, depending on the model, the price can be adjusted accordingly.
Make sure to read the description on the condition level very carefully. Each pricing guide has different ways to describe the condition of the car. While some dealerships might refer to a car as clean, othersmight call it outstanding.
Check the History Report
Here is what the history report will tell you.
Check for any serious accidents. These issues are shared with the insurance company right away.
A shady seller might spin the car's odometer to increase the selling price. The vehicle's history report can tell more about such a scam.
The report will tell you about every time the car was sold.
The report will also tell you about the car's issuesand whether or not those issues were repaired.
Final Word
If you are planning to buy a quality used car, Santiago Auto Dealer is the place for you. We sell the best possible inventory at affordable rates and without any extra charges. To know more about our cars, visit our website today.